As the leaves begin to change and the air turns crisp, it's the perfect time to transform your home into a cozy and inviting sanctuary for the fall season. From warm earth tones to rustic farmhouse accents, there are endless possibilities for incorporating autumn charm into your living space. Whether you're looking to add a touch of seasonal elegance or completely revamp your decor, this article will provide you with a variety of fall home decor ideas that will create a welcoming atmosphere that's sure to impress your guests. Get ready to embrace the beauty of autumn and make your home the ultimate cozy retreat.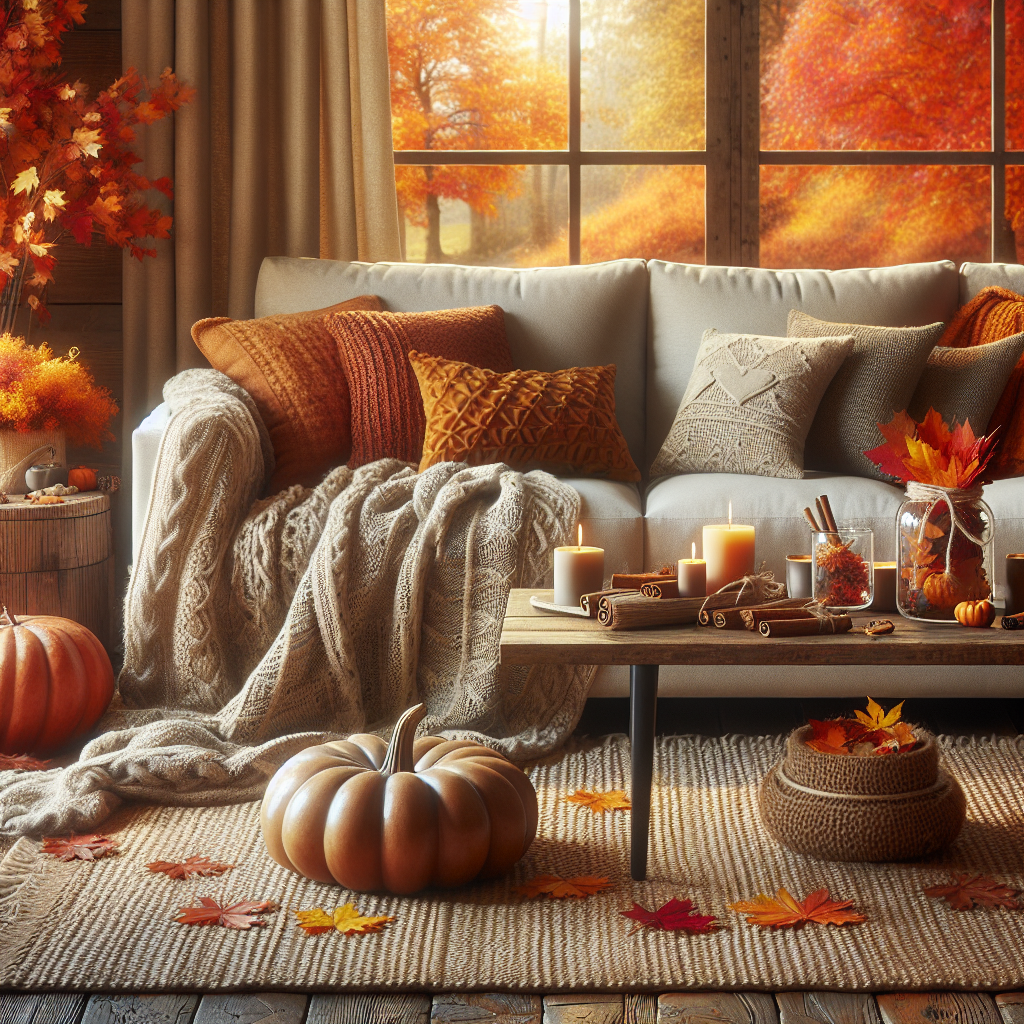 Color Palette
Warm and earthy tones
When it comes to fall home decor, warm and earthy tones can create a cozy and inviting atmosphere. Think about incorporating colors like burnt orange, deep red, golden yellow, and rich browns. These colors mimic the changing leaves and will bring warmth into your space. Consider adding these colors through accent pieces like throw pillows, curtains, or even a new rug.
Rich jewel tones
If you want to add a touch of luxury to your fall decor, rich jewel tones are the way to go. Colors like emerald green, sapphire blue, and amethyst purple add depth and sophistication to any room. Incorporate these colors through statement pieces like velvet chairs or a jewel-toned accent wall. Don't be afraid to mix and match different jewel tones to create a vibrant and visually appealing space.
Neutral and muted shades
For a more understated and calming fall look, consider using neutral and muted shades in your home decor. Colors like beige, taupe, dusty rose, and olive green can create a tranquil and relaxing atmosphere. Use these colors on larger items like sofas and curtains, and then add pops of color with accessories like pillows and artwork. This color palette is perfect for those who prefer a more minimalist and modern approach to fall decor.
Textiles and Fabrics
Cozy throws and blankets
As the temperatures drop, it's essential to have cozy throws and blankets to keep you warm and comfortable. Opt for soft and plush materials like faux fur or chunky knit. Choose warm colors like burgundy, mustard yellow, or deep navy to complement your fall color palette. Drape these throws over your sofas or display them in a woven basket for easy access and a touch of cozy decor.
Plush pillows
Pillows are an easy and versatile way to add texture and comfort to your fall decor. Opt for fabrics like velvet or faux suede in rich colors like rust orange or deep purple. Mix and match different sizes and patterns to create a layered and inviting look. Arrange these pillows on your sofas, armchairs, or even your bed for a touch of fall luxury.
Soft rugs
Don't forget to add warmth to your floors with soft rugs. Choose rugs with texture like shag or wool to add coziness to your space. Consider earthy tones like terracotta or deep brown to tie in with your fall color palette. Place these rugs in high-traffic areas like your living room or bedroom to create a comfortable and inviting atmosphere.
Natural Elements
Fall foliage
One of the most iconic symbols of fall is the changing leaves. Bring this natural element indoors by incorporating fall foliage into your home decor. Collect colorful leaves from outside and display them in a glass vase or frame them as artwork. You can also find artificial fall foliage that looks just as stunning and lasts throughout the season. Arrange these branches in a large vase or create a fall-themed wreath for your front door.
Pinecones and acorns
Pinecones and acorns are another great way to bring the outdoors in. Collect these natural treasures during your autumn walks and use them as decorative accents throughout your home. You can fill a clear glass bowl with pinecones as a centerpiece or use them to adorn your fall wreaths or garlands. Spray paint them in gold or silver for an added touch of elegance.
Branches and twigs
Adding branches and twigs to your fall decor can create a rustic and organic feel. Look for branches with interesting shapes and textures, and consider placing them in a large vase or tall floor basket. You can also hang twigs with small mason jars filled with fairy lights for a whimsical touch. Arrange these natural elements near your fireplace or in an empty corner to bring life into your space.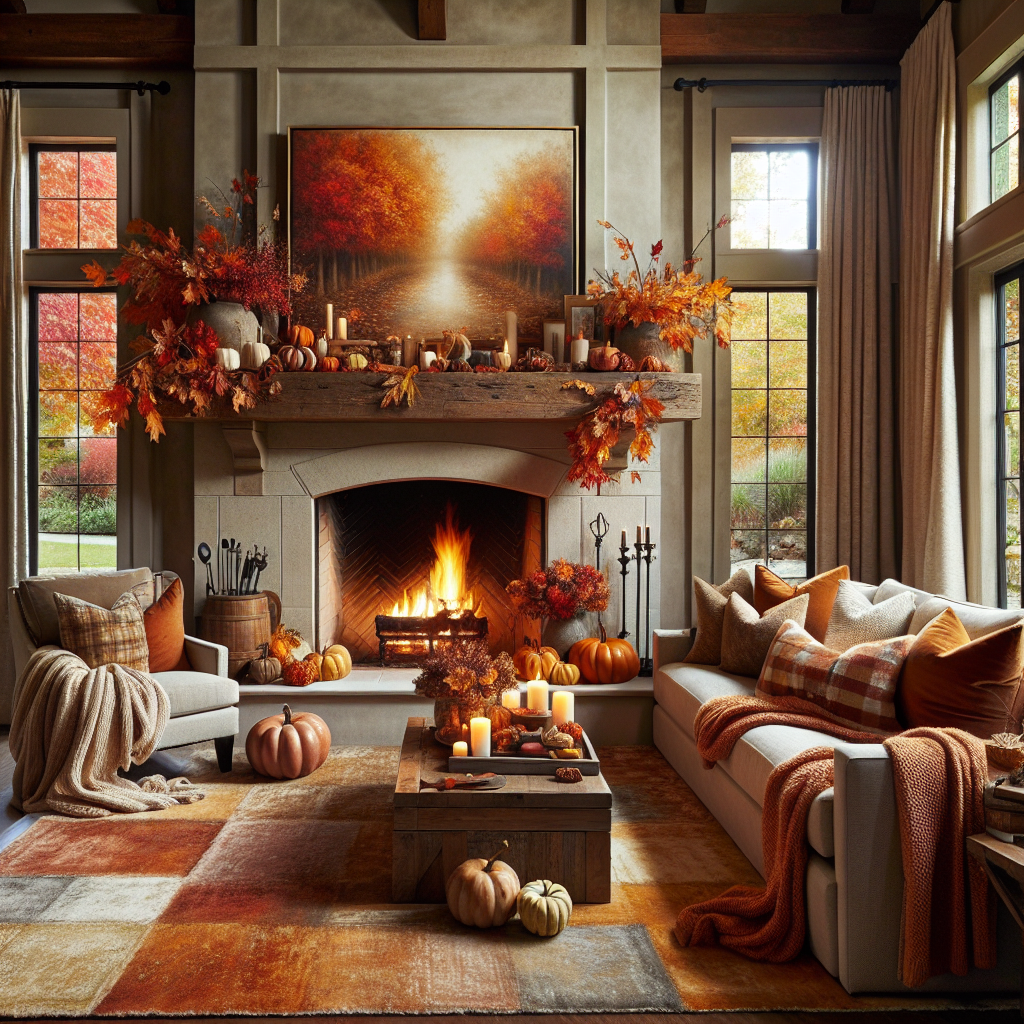 Candles and Lighting
Warm candlelight
Candles are a must-have for creating a cozy and inviting atmosphere. Choose candles in fall scents like pumpkin spice or apple cider to enhance the autumn ambiance. Place them in decorative candle holders or lanterns and arrange them on your coffee table or mantel. The warm glow of candlelight will instantly make your space feel warm and inviting.
Fairy lights
Fairy lights are a versatile and magical way to add ambiance to any room. String them along your staircase railing, drape them over your headboard, or place them in glass jars to create a whimsical display. Opt for warm white lights to create a cozy and inviting atmosphere. You can also find fairy lights in different shapes and colors to add a touch of fun to your fall decor.
String and lantern lights
String and lantern lights are another fantastic lighting option for fall. Hang them outdoors to create a cozy atmosphere for your outdoor gatherings, or string them across your living room to create a warm and inviting space. Lantern lights with autumn-themed cutouts can add a unique and festive touch to your fall decor. Experiment with different lighting arrangements to find the perfect ambiance for your home.
Tabletop Displays
Autumn centerpieces
A stunning autumn centerpiece can instantly elevate your fall decor. Consider using a mix of natural elements like branches, pinecones, and fall foliage, and arrange them in a decorative bowl or tray. Add candles or fairy lights to create a warm and inviting focal point for your dining table or coffee table. You can also incorporate seasonal fruits like apples or pears for a touch of freshness.
Pumpkin arrangements
Pumpkins are synonymous with fall, and using them in your decor is a must. Instead of carving them, consider using pumpkins as decorative vases. Hollow out the inside, place a glass jar or vase inside, and fill it with fall flowers or foliage. Arrange these pumpkin arrangements as a centerpiece or scatter them throughout your home for a festive and inviting touch.
Seasonal table linens
Swapping out your everyday table linens for seasonal ones can instantly transform your dining space. Look for tablecloths or runners in fall colors like burnt orange or deep burgundy. Consider adding textured placemats or napkins in complementary colors to create visual interest. Top it off with autumn-themed tableware like leaf-shaped plates or pumpkin-shaped salt and pepper shakers for a complete fall table setting.
Wreaths and Garlands
Fall wreaths
A fall wreath on your front door or above your fireplace can instantly make your home feel warm and inviting. Choose wreaths made with dried leaves, pinecones, and twigs for a rustic and natural look. Opt for wreaths in fall colors like burnt sienna, deep red, or golden yellow to make a statement. You can also add a decorative bow or ribbon in a complementary color for an extra touch of elegance.
Leaf garlands
Leaf garlands are a versatile and easy way to add a touch of fall to any space. Drape them along your mantel, staircase railing, or even across your windows for a festive and inviting look. You can find garlands made from dried leaves, faux foliage, or even colorful fabric leaves. Mix and match different shades and sizes to create a vibrant and visually appealing display.
Burlap banners
Burlap banners are a charming and rustic addition to any fall decor. Create your own by cutting triangles out of burlap fabric and painting fall-themed words or phrases onto each triangle. String them together with twine or ribbon and hang them across your fireplace or entryway. This DIY project adds a personal and cozy touch to your fall home decor.
Cozy Nooks
Reading corners
Create a cozy reading corner in your home where you can curl up with a good book and a cup of tea. Place a comfortable armchair or chaise lounge near a window or next to a bookshelf. Add soft throw pillows, a warm blanket, and a small side table for your books and beverage of choice. Consider adding a floor lamp nearby for optimal reading lighting. This inviting nook will become your favorite spot to relax and unwind during the autumn months.
Window seats
If you have a bay window or a larger window ledge, consider transforming it into a cozy window seat. Add a cushion made from a warm and textured fabric, like faux fur or velvet, and top it off with plush pillows for added comfort. Install floating shelves nearby to hold your favorite books or decorations. This snug spot will not only provide extra seating but also offer a lovely view of the changing leaves outside.
Fireplace seating
As the temperatures drop, your fireplace becomes the focal point of your living room. Arrange seating around it to create a cozy and inviting atmosphere. Add a comfortable sofa or a set of armchairs facing the fireplace, with a coffee table in between for holding your drinks and snacks. Place plush rugs and pillows nearby to add warmth and comfort. This seating arrangement will make your living room the perfect place to gather with friends and family during the fall season.
Fireplace Decor
Mantel decorations
The mantel above your fireplace provides the perfect opportunity to showcase your fall decor. Arrange a mix of natural elements like branches, pinecones, and fall foliage on top. Place candles in various heights and sizes for added ambiance. Add a statement piece like a fall-themed artwork or a mirror with an ornate frame. Don't forget to incorporate your fall color palette with decorative vases, candle holders, or garlands.
Fireplace screens
A decorative fireplace screen can instantly enhance the look of your fireplace. Choose one with intricate metalwork or stained glass to add visual interest. Look for screens with autumn-inspired motifs like leaves or tree silhouettes. This functional piece not only adds a touch of elegance but also serves as a safety measure to keep embers from escaping.
Firewood storage
If you have a wood-burning fireplace, incorporating firewood storage is a practical and stylish choice. Opt for a woven basket or a rustic wooden crate to hold your firewood. Place it near your fireplace for easy access and to create a cozy and inviting aesthetic. You can also stack the firewood neatly next to your fireplace for a more organized and visually appealing display.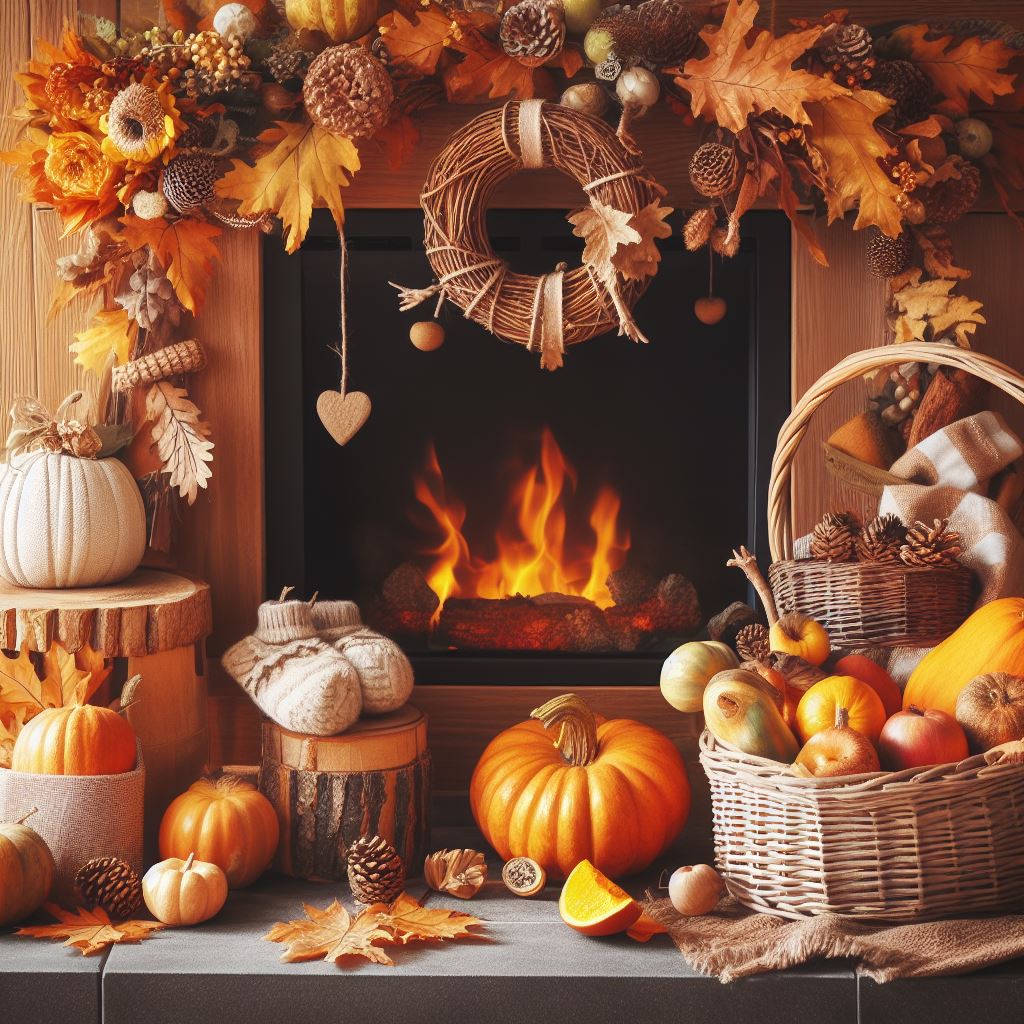 Seasonal Artwork
Fall-themed paintings
Showcase the beauty of fall through artwork that captures the essence of the season. Look for paintings that feature landscapes with colorful leaves, harvest scenes, or serene autumn settings. Choose pieces with warm and earthy tones that complement your fall color palette. Hang these paintings in your living room or hallway to add a touch of nature and elegance to your space.
Prints with autumn leaves
Prints featuring detailed close-ups of autumn leaves can bring a touch of whimsy to your fall decor. Look for prints with vibrant colors and intricate leaf patterns. Arrange them in a grid formation on one of your walls, or create a gallery wall with different sizes and styles of leaf prints. The combination of nature's beauty and artistic interpretation will create a unique and eye-catching focal point in your home.
Nature photography
Bring the beauty of the outdoors into your home with nature photography that captures the essence of fall. Look for photographs that feature landscapes with colorful foliage, misty mornings, or cozy woodland scenes. Choose prints with warm tones that complement your fall color palette. Frame these photographs and arrange them in a gallery wall or place them individually throughout your home to create a serene and inviting atmosphere.
Pumpkin and Gourd Displays
Pumpkin arrangements
No fall decor is complete without pumpkins, and there are endless possibilities for incorporating them into your home. Consider creating elegant pumpkin arrangements by stacking different-sized pumpkins on top of each other. You can also hollow out small pumpkins and use them as vases for fall flowers or foliage. Arrange these displays on your mantel, coffee table, or dining table for a festive and inviting touch.
Gourd displays
Gourds come in various shapes, sizes, and colors, making them a versatile addition to your fall decor. Create a stunning gourd display by arranging them in a decorative tray or bowl. Combine different types of gourds, such as acorn squash, butternut squash, or decorative gourds, for visual interest. Place these displays on your entryway table or console table for an instant fall vibe.
Painted pumpkins
If you want to add a unique and personalized touch to your pumpkin decor, consider painting them. Use fall colors like gold, copper, or metallic shades to create a glamorous look. You can also paint intricate designs or fall motifs like leaves, pumpkins, or harvest scenes. Arrange these painted pumpkins on your front porch or scatter them throughout your home for a creative and eye-catching fall display.
Fall home decor is all about creating a cozy and inviting space that reflects the beauty of the season. By incorporating warm and earthy tones, rich jewel tones, and neutral and muted shades, you can set the perfect backdrop for your fall decor. Textiles and fabrics like cozy throws and blankets, plush pillows, and soft rugs add comfort and warmth to any room. Natural elements such as fall foliage, pinecones and acorns, and branches and twigs bring the outdoors in and create a rustic and organic feel. Candles and lighting, including warm candlelight, fairy lights, and string and lantern lights, add a warm and inviting glow. Tabletop displays like autumn centerpieces, pumpkin arrangements, and seasonal table linens provide a festive and visually appealing touch. Wreaths and garlands featuring fall elements like fall wreaths, leaf garlands, and burlap banners bring charm and elegance to your decor. Cozy nooks such as reading corners, window seats, and fireplace seating create inviting spaces for relaxation. Fireplace decor, including mantel decorations, fireplace screens, and firewood storage, enhance the focal point of your living room. Seasonal artwork like fall-themed paintings, prints with autumn leaves, and nature photography bring the beauty of fall into your home. And lastly, pumpkin and gourd displays featuring pumpkin arrangements, gourd displays, and painted pumpkins add a festive and creative touch. With these fall home decor ideas, you can transform your space into a cozy and inviting haven that celebrates the beauty of the season.