Get ready to turn your home into a magical winter wonderland with these creative ways to use Christmas lights! From creating whimsical outdoor displays to adding a cozy ambiance indoors, there are countless ways to incorporate these twinkling lights into your holiday decor. Whether you're looking to add a touch of sparkle to your living room or transform your backyard into a festive paradise, these ideas are sure to brighten up your home and spread holiday cheer. So, grab your string of lights and get ready to bring the magic of Christmas into every corner of your house!
1. Outdoor Decorations
1.1 Christmas Tree in the Yard
Nothing says Christmas quite like a beautifully decorated tree standing tall in your yard. Why limit your holiday cheer to just the living room when you can extend it to the outdoors as well? By placing a Christmas tree in your yard and adorning it with twinkling lights and festive ornaments, you'll create a warm and inviting atmosphere for all to enjoy. Whether you opt for a traditional evergreen tree or a more unique and modern design, the sight of a Christmas tree in your yard will surely bring joy to neighbors and passersby alike.
1.2 Lighted Pathways
Guide your guests to your front door with magical lighted pathways. By lining your walkway or driveway with Christmas lights, you'll not only create a safe and well-lit pathway but also add a touch of enchantment to your outdoor space. Whether you choose classic white lights or opt for multicolored strands to match your overall decor theme, lighted pathways will ensure that your guests arrive in style and feel the festive spirit as soon as they step foot on your property.
1.3 Illuminated Wreaths on Windows
Turn your windows into stunning holiday displays by adorning them with illuminated wreaths. Instead of simply hanging wreaths on your front door, take it a step further and hang them on your windows as well. By adding Christmas lights to these wreaths, you'll create a captivating and cozy ambiance both inside and outside your home. As the sun sets and the lights come on, your house will shine with the spirit of the season, spreading joy and cheer to all who pass by.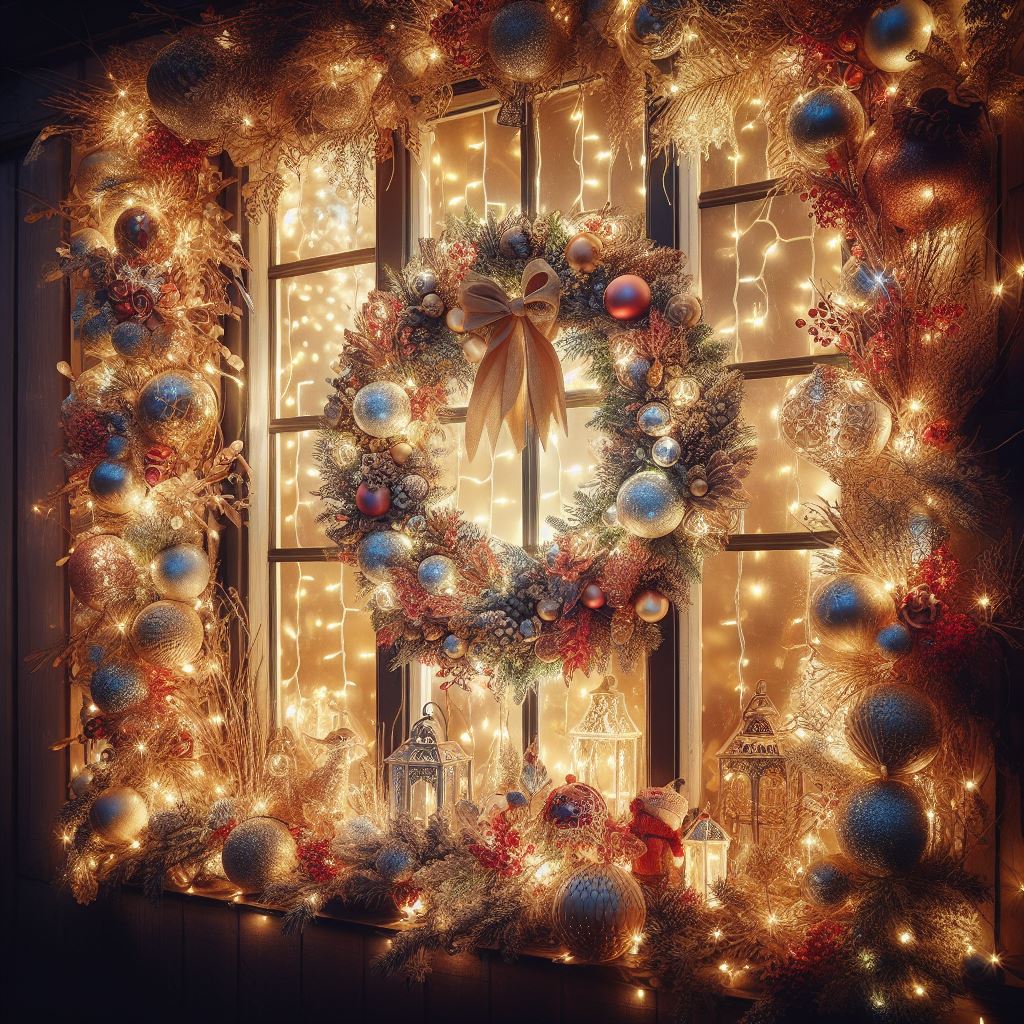 1.4 Festive Light Displays
Create a mesmerizing spectacle by crafting festive light displays in your yard. Whether you want to depict reindeer and Santa's sleigh or create a winter wonderland with snowflakes and icicles, the possibilities are endless when it comes to creating enchanting scenes with Christmas lights. Combine different colors, shapes, and patterns to bring your imagination to life. With a little creativity and some well-placed lights, your yard will become the talk of the town during the holiday season.
1.5 Lighted Garland on Railings
Don't let your railings go unnoticed – adorn them with lighted garland to make a statement. Whether it's the railing on your porch, staircase, or balcony, wrapping it with twinkling garland will instantly uplift the holiday spirit. Use garland made of artificial greenery and intertwine it with strands of Christmas lights for a cozy and inviting look. As the lights twinkle and the garland glows, you'll create a festive ambiance that will make every entrance and exit from your home feel like a magical experience.
2. Indoor Decorations
2.1 Christmas Lights Curtain
Transform your living space into a whimsical paradise by hanging a curtain of Christmas lights. A Christmas lights curtain can be hung behind sheer curtains or against a wall to create a captivating backdrop for your holiday decorations. Whether you choose warm white lights for a cozy feel or multicolored lights for a festive atmosphere, this simple yet stunning decoration will add a touch of magic to any room in your home.
2.2 Lighted Backdrop for Decorations
Enhance your holiday decorations by creating a lighted backdrop that showcases your favorite items. Whether you have a fireplace mantle, a bookshelf, or a display table, using Christmas lights to create a backdrop behind these areas will draw attention to your festive displays. Arrange the lights in a cascading or zigzag pattern, and let them serve as the backdrop to highlight your cherished ornaments, figurines, or other holiday decorations.
2.3 Fairy Lights in Jars
Bring a whimsical touch to your indoor decor by placing fairy lights in jars. These small, twinkling lights are perfect for adding a soft and enchanting glow to any room. Simply place a strand of fairy lights into a glass jar or vase, and watch as the lights create a magical atmosphere. These light-filled jars can be placed on shelves, tables, or even hung from the ceiling for a truly mesmerizing effect.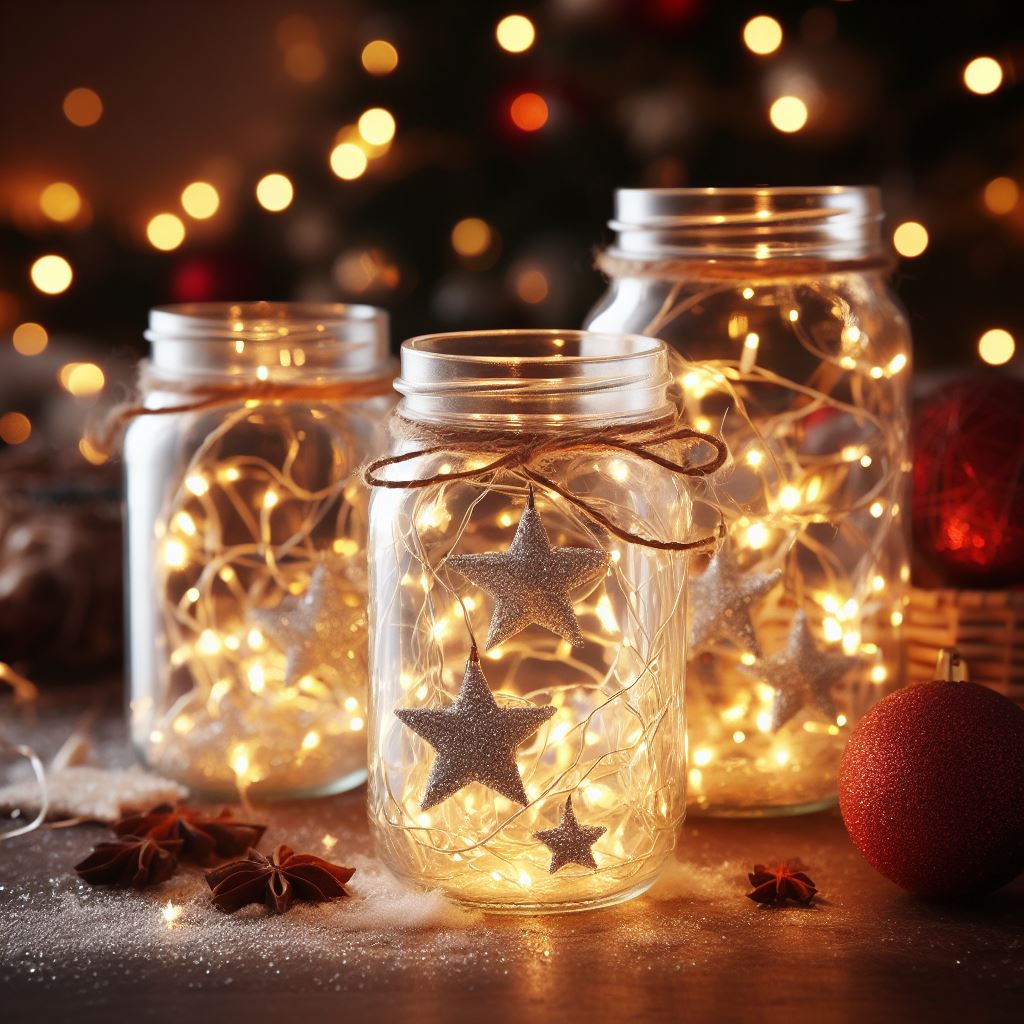 2.4 Twinkling Lights on Staircases
Make your staircase a charming focal point by adorning it with twinkling lights. Wrap strings of Christmas lights around the railing or drape them along the steps to create a warm and inviting glow. Whether you choose to use white lights for an elegant touch or colorful lights to match your overall decor theme, the twinkling lights on your staircase will add a touch of holiday magic to your home.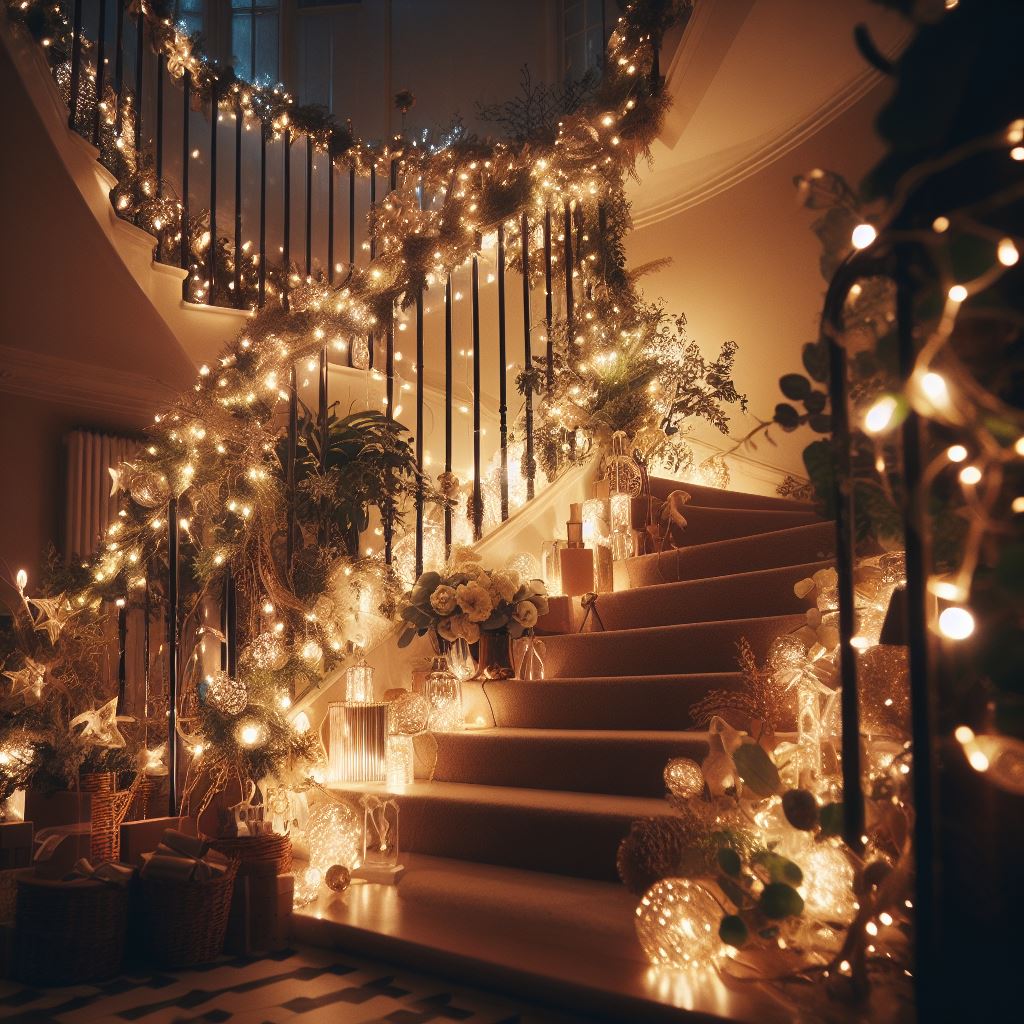 2.5 Lighted Headboard
Create a cozy and romantic atmosphere in your bedroom by adding a lighted headboard. Attach strands of Christmas lights to the backside of your headboard, creating a soft and luminous glow around your bed. This simple addition will instantly transform your bedroom into a tranquil and enchanting space, perfect for relaxing and unwinding during the holiday season.
3. Holiday Centerpieces
3.1 Glowing Mason Jar Centerpieces
Add a rustic touch to your holiday table with glowing mason jar centerpieces. Fill mason jars with strands of Christmas lights, pinecones, berries, or any other festive decorations you desire. Arrange these jars as centerpieces on your dining table or scatter them throughout your living space for a cozy and welcoming ambiance. The warm glow from the lights inside the jars will create a magical atmosphere during your holiday gatherings.
3.2 Lighted Wine Bottle Decor
Repurpose empty wine bottles into stunning lighted decor pieces. Spray paint the bottles in festive colors, wrap them with strings of Christmas lights, and place them on a shelf or table. The lights will shine through the colored glass, creating a mesmerizing display. You can also add bows or other decorative elements to further enhance the festive look. These beautiful lighted wine bottle decorations will add a touch of elegance and charm to any room in your home.
3.3 Illuminated Lantern Displays
Create captivating lantern displays by filling them with Christmas lights. Whether you have vintage lanterns or contemporary ones, simply place a strand of lights inside the lantern, and turn it on to see the magic unfold. Arrange these illuminated lanterns on your dining table, fireplace mantle, or as part of a centerpiece to add a warm and inviting glow to your holiday decor.
3.4 Fairy Lights in Flower Arrangements
Elevate your floral arrangements with the addition of fairy lights. Whether you have fresh flowers or artificial ones, weaving strands of fairy lights into the arrangement will make it come alive with a magical twinkle. Simply wrap the lights around the stems and intertwine them with the flowers. The combination of delicate blooms and shimmering lights will create a stunning centerpiece that will be the highlight of your holiday gatherings.
3.5 Candlelight with Christmas Lights
Combine the warm glow of candles with the twinkle of Christmas lights for a truly magical ambiance. Place candles of different heights on a tray or shallow dish, and weave strands of lights throughout the arrangement. As the candles flicker and the lights twinkle, you'll create a captivating and cozy atmosphere that's perfect for intimate dinners or quiet evenings at home.
Don't limit yourself to just using Christmas lights for holiday decorations! Get creative and use them year-round to add a cozy and inviting ambiance to your home. With these ideas, you can brighten up any space and make it feel more festive, no matter the season. So go ahead and experiment with different ways to incorporate Christmas lights into your home decor – the possibilities are endless! Happy decorating!